Bethel Park-based Keystone Chorus brings old-time tunes to life
JOANNE KLIMOVICH HARROP

| Wednesday, July 20, 2022 11:01 a.m.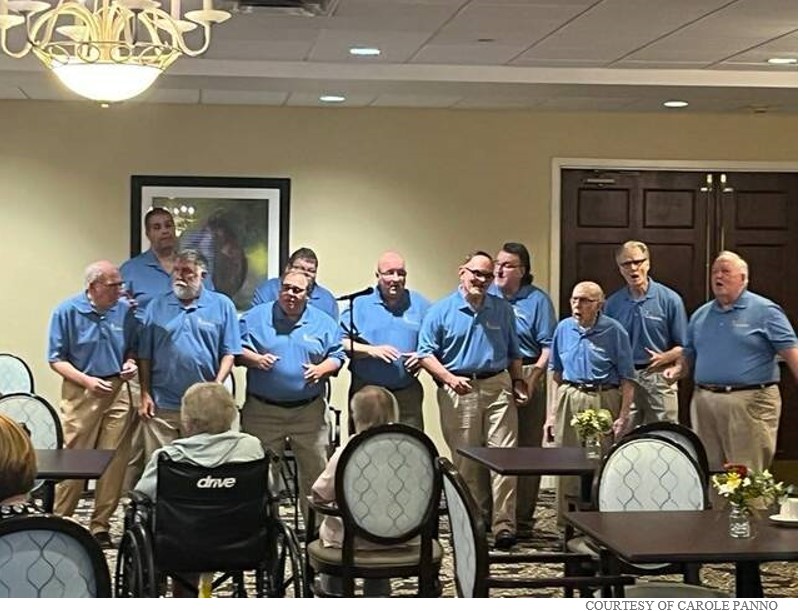 COURTESY OF CAROLE PANNO
The Keystone Chorus performs for local seniors.
In the basement of Hamilton Presbyterian Church in Bethel Park is the sound of music.
Familiar songs such as "The Lion Sleeps Tonight," "Under the Boardwalk" and "When I'm Sixty-Four" conjure up memories of tunes reminiscent of the days of barbershop quartets.
On this night it's a group of singers:

The

Keystone

Chorus

, which is part of the

Barbershop Harmony

Society

.
A barbershop chorus is a group of men who sing a cappella in four-part harmony.
"It makes our day to sing for people," said Temp Smith of Mt. Lebanon, president of the Keystone Chorus.
Smith said before a recent two-hour rehearsal that the weekly practices allow the group of singers to mesh their voices to be, well, in harmony.
Pretty much silent when it came to live concerts the past two years because of the pandemic, the crew got back to the stage in later spring with performances at nursing homes and other senior care facilities
What began as four guys harmonizing in musical performances in the late 1950s has evolved into a chorus of 24 members who regularly participate. In this style of vocalizing, the melody is consistently sung by the lead, tenor, bass and baritone.
During a break in the practice, several singers broke into groups of the traditional quartet to sing. During a performance, they may split off into groups of four. They often practice in organized quartets so they can develop a repertoire and perform together.
In addition to singing for seniors, they performed at the National Cemetery of the Alleghenies in Cecil, Washington County, the day before Memorial Day and at the Ordination Anniversary Celebration for St. Oscar Romero Parish at the Hilton Garden Inn/Southpointe in early June. You can hear them at church festivals and farmers' markets.
They will be on stage at the Dean Streator Summer Concert Series on Aug. 7. The series is sponsored by the Bethel Park Community Foundation.
The series resumed following a two-year hiatus because of the pandemic. Shows are at 2:30 p.m. on Sunday through Aug. 7 at the Bethel Park Community Center. The Allegheny Brass Band is scheduled for July 31.
The concerts are free. Contributions are welcome. The foundation funds scholarships and projects for Bethel Park residents in the areas of arts and culture, health and recreation, education and safety.
The event is named after Dean Streator who was long time band director at Bethel Park and a former trustee of the community foundation. When he died, the marching band performed and the funeral procession rode past Bethel Park High School.
His daughter Lynn Streator Dunbar is a trustee for the foundation. She and trustee Janet Cropp Paterra are co-chairing the concert series.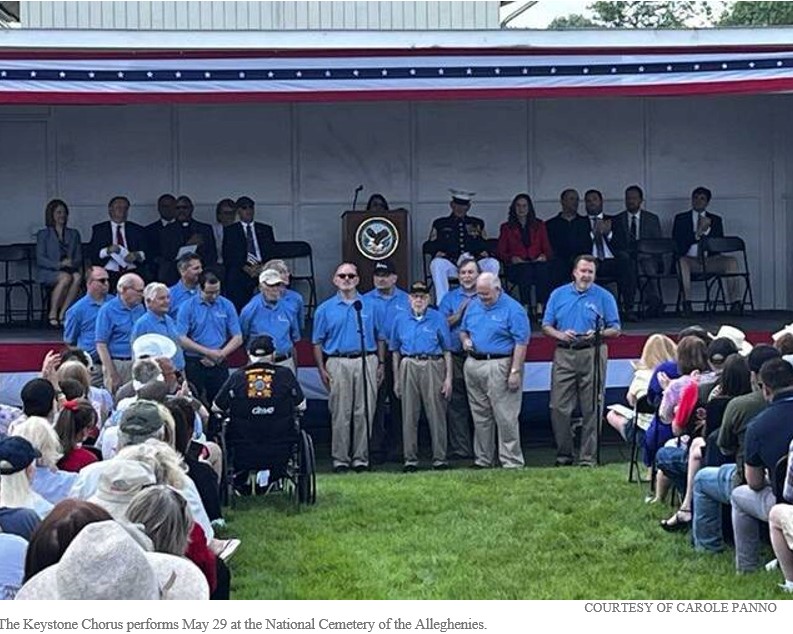 "We feel like we are bringing a nice variety of work to this concert series," Streator Dunbar said. "Music is a wonderful way for people to enjoy an afternoon out. It teaches life lessons. My father loved music."
That love for music is felt from the audience when the Keystone Chorus performs, said Bob Hrabar of Carrick. He said it means a lot to the people for whom they perform.
"We see people tear up when we sing 'God Bless America' and 'Armed Forces Medley,'"said Hrabar. "Our music moves people."
The group continued to rehearse during the pandemic — virtually. They created two recordings whereby individuals sent in performances that were put together on YouTube celebrating Christmas and St. Patrick's Day.
They find members by word of mouth and ask everyone they meet.
"It takes persistence," said Hrabar. "I asked someone for an entire year before they said yes. They always had an excuse."
Their oldest member is George Fritsch of Mt. Lebanon, who will be 96 on Aug. 6.
"It's a challenge, but I love a challenge," Fritsch said. "It's about camaraderie. I love performing. People always tell us they can't sing. But they tell us they sing in the shower and sing in the car, but can't sing in the chorus."


Scott Toney, 40, of Castle Shannon, is the youngest member. He joined after his stepdad, Mark Schroeder of Bethel Park, became a member.
"He loves to sing and I love to sing," Toney said. "If I am having a tough day these guys pick me up."
They pay minimal dues.
"For us it's a social thing," Hrabar said. "We banter and enjoy being with each other. We are community chorus."
They said when they visit a senior living facility and meet a member of a quartet, they invite the man to sing with them. They also take time to talk to the residents who may have no one to visit them.
The tunes they choose are from the canon of early 20th-century tunes known as the Great American Songbook. When they performed at the National Cemeter,y there was plenty of applause.
"It is rewarding singing for people," said John Tamiggi of Bethel Park.
"We hope to make a difference to a lot of people," Ken Dobbins said.
A normal performance is on average an hour to an hour and a half.
The group is in search of a director.
As vice president of membership, Bob Seeger of Crafton said he encourages men of all ages who enjoy music and singing to come to a weekly rehearsal with the hope that they may join.
"Our love of music has brought us fellowship amongst our group, joy to those to whom we sing, and fulfillment in bringing happiness to others," Seeger said. "Regardless of any formal musical training, all our welcome!"
Details:
keystonechorus@gmail.com

or 412-254-3148
JoAnne Klimovich Harrop is a Tribune-Review staff writer. You can contact JoAnne at 724-853-5062,

jharrop@triblive.com

or via Twitter .